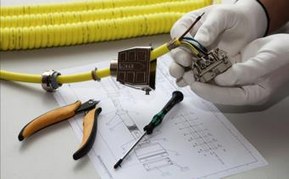 LAPP has a long history of engineering a wide array of cables, connectors and accessories, enabling quick response to your requirements – from ad-hoc to large-scale projects.
Your benefits with us:
Working with LAPP, you have access to state-of-the-art system solutions assembly sites around the world.
Less effort
You reduce administrative work and overheads.
Increased efficiency
Fewer suppliers means a more streamlined purchasing, quality and warehousing process.
Cost savings
Less inventory carrying costs of multiple components, cutting scrap costs and production inventory.
LAPP's assembly portfolio
Set your expectations high and rely on cable assembly solutions made by LAPP.
Our range of services
We deliver a wide array of cables for CNC machinery, switch boxes, control cabinets and electrical assemblies.
Spiral cables
When producing spiral cables, LAPP has developed a wealth of expertise servicing customer needs for years. Flexibility and durability are key factors for applications requiring long-term high performance.
Glass fiber assembly
We are the expert system partner for sophisticated fiber optic connection technology.
eMobility
We deliver charging system, internal connection cables and high-voltage connections.