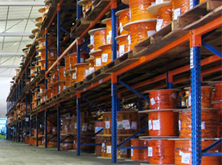 JJ-LAPP was founded as a joint venture between Jebsen & Jessen Group and LAPP Holding Asia, a subsidiary of LAPP Group in Germany, to become the leading cable and connectivity solutions provider in ASEAN. We bring value to our customers by localising German innovation, manufacturing our high-quality products in Indonesia, and complementing this with a suite of products sourced from world-renowned brands. This enables us to provide a wide range of solutions that maximises return on investment for our customers.
Serving across the ASEAN, our team is committed to building trust-based partnerships with our customers and helping them achieve the business success they desire. We are proud to have served the Building Automation, Industrial Automation, Renewable Energy, Original Equipment Manufacturer, Transportation, and Automotive sectors with cable and connectivity solutions since 1980.
Industries We Know and Serve
Data Communication
Building automation
Industrial automation
Process automation
Factory automation
Renewable energy
OEM
Transportation
Automotive
Our Presence Around the Region
Singapore (Headquarters)
Indonesia
Malaysia
Myanmar
Philippines
Thailand
Vietnam
Reprogramming the Business
A multitude of industries rely on cable technology to power their manufacturing facilities, improve day-to-day operations and enhance their product offerings. This makes the accessibility of innovative cable solutions, as well as their quality, reliability and performance, imperative to business success.
Accessibility
Regional network of warehouses and sales offices
Short order lead time and reduced costs
Cut length orders for better cost management
Quality
German innovation adapted to local needs
Reliable, time-tested solutions of international repute
High technical and quality standards guaranteed
Value
Global solutions with local support
Customised solutions to maximise returns on investment
Sharing market insights and deep industry expertise
At JJ-LAPP, our mission is to provide reliable connectivity solutions in ASEAN. We recognise the importance of the role we play and the responsibility that comes with it.
We import leading German cable technology, tailor it to the market needs of ASEAN and manufacture it within the region. It is a strategy with a clear vision: to equip industry players with world-standard solutions that work for them in the most time and cost efficient manner. To this end, we hold inventory worth millions of dollars in the region.