SOLAR: CABLES AND WIRES FOR PV SYSTEMS
Complete solutions and project management for your PV system from LAPP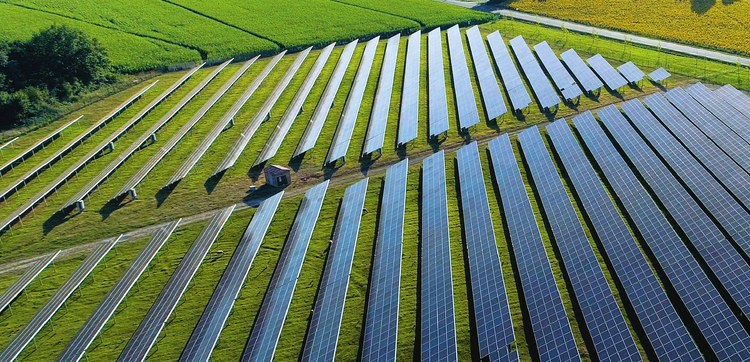 The use of photovoltaics has been an essential part of renewable energies for years. It reliably makes a major contribution to the energy turnaround in order to successfully solve the challenges posed by climate change. Photovoltaics is widely used, from large-scale systems by energy suppliers to systems for single-family homes.
What special requirements must conductors and cables in PV systems meet?
Modern PV systems generate significantly higher outputs than just a few years ago. The high system voltage requires more powerful lines and components. A PV system is usually in operation for 20 years or more. Wires and cables must therefore be made of durable and high-quality material. They are constantly exposed to wind and weather. For reliable performance, their components must therefore be particularly weatherproof against heat, wind and frost. Also make sure they are rodent proof.
To exploit the full potential of energy supply, the relatively young industry is working with new technologies and applications such as organic photovoltaics (OPV). The requirements of the photovoltaic industry for cabling solutions range from large, robust underground cables for power plants to filigree connection technology for the flexible modules of the OPV.
Why LAPP products for the PV system?
We are constantly developing our products and solutions further: the longest possible durability, robustness or extreme flexibility are a matter of course for us. Thanks to special sheathing materials, LAPP solar cables are not only flame-retardant and halogen-free, but also resistant to ozone and UV. Our solarcables and solarplugs withstand even extreme weather conditions such as heat, wind and frost and are therefore perfectly suited for use in your outdoor installations.
In close cooperation with users, the German TÜV and the North American UL Approval Institute, a large number of tests and performance tests have been carried out with ourÖLFLEX® cables, solarcables, SKINTOP® cableglands and EPIC® SOLAR connectors. In this way we can guarantee our quality standard. Our products are ready for use worldwide and of course RoHS compliant.
You cannot find a suitable solar product for your requirements? Together we will develop individual solutions that fit your needs. Our experts will be happy to advise you.
By the way: Expert knowledge is not only required for the selection of the components used, but also for the assembly and correct use of the components. Here too, we will be happy to support you on site.
Everything from one source. With us as your partner. Our Project business-Team is happy to advise you on the planning and implementation of your PV systems.
Click here for the products for your PV system
Whether single-family house or industrial plant: We offer solar cables for the cabling of solar modules or module rows up to robust underground cables for feeding energy into the distribution network of energy suppliers. LAPP always offers the right solution for you:
Special solar cables: H1Z2Z2-K, ÖLFLEX® SOLAR XLS-R, ÖLFLEX® SOLAR XLWP
Medium and high voltage lines: N2XS2Y, N2XS(F)2Y, NA2XS(F)2Y 10kV-110kV
Fiber optic cables: A-D(ZN)2Y, A-DQ(ZN)2Y, A -DQ(ZN)B2Y
Plug connector: EPIC® SOLAR with double safety system for photovoltaic systems
Cable glands: SKINTOP® SOLAR
Accessories: SILVYN®, FLEXIMARK®, Ty-Rap® UV – bundling, marking and fastening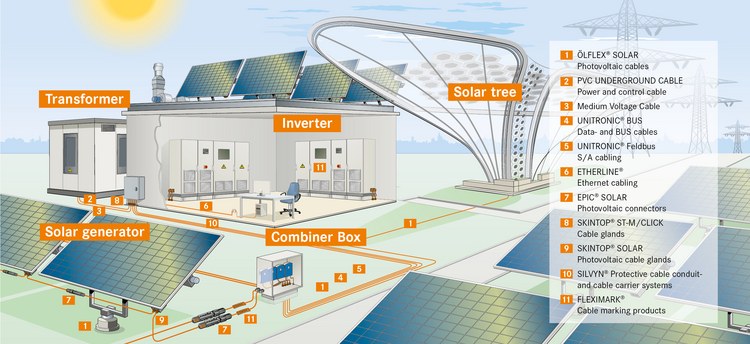 Which lines for PV systems?
High-quality products and easy installation are decisive factors you should pay attention to. If one of the cables becomes fragile or fails, this affects all other cables of the same reel. Re-installation and removal can be very expensive. In the long term, therefore, it pays off to invest in durable and high-quality material.
Which connectors for PV systems?
Pay attention to the following points when buying a solar connector:
Product selection: Use the EPIC® SOLAR 4Plus plug connector Male and the EPIC® SOLAR 4Plus plug connector Female made of high-quality and UV-resistant plastic.
Crimp connections, carried out according to regulations, are the best connections between cable and plug connector. They reliably transmit solar power over the entire service life of the photovoltaic system – over decades. Our LAPP connector system has a crimp connection for cable cross sections up to 10 mm².
TÜV certification and testing according to the DIN EN 62852 standard (relevant for connectors for DC voltage applications in photovoltaic systems) indicate quality.
The material selection for solar connectors
The transmission of energy and the high resistance also heat the cables and connectors. The resistance of the copper in the cables increases, which increases the heat generation. If the system is now switched off and the current removed, the line cools down. The constant change between hot and cold makes cables and connectors brittle.
The connectors of a solar system are exposed to the sun for years. Here you can observe a similar phenomenon: The sun's UV radiation has a damaging effect on conventional plastics and causes them to age rapidly. Cold nights and hot sunny days additionally pull on the snap-in hooks.
We at LAPP therefore use particularly UV-resistant plastics and our specially shaped snap-in hooks hold the connection securely together. EPIC® SOLAR 4PLUS is tested according to IEC 62852 and is suitable for many ÖLFLEX® SOLAR cables.
Reference stories
In the photovoltaic sector, LAPP offers a broad product portfolio for reliable, high-quality and intelligent connection solutions. We present selected projects in which these solutions are used or in which we create individual solutions in close cooperation with you.
One of the largest solar parks in South Africa, 2020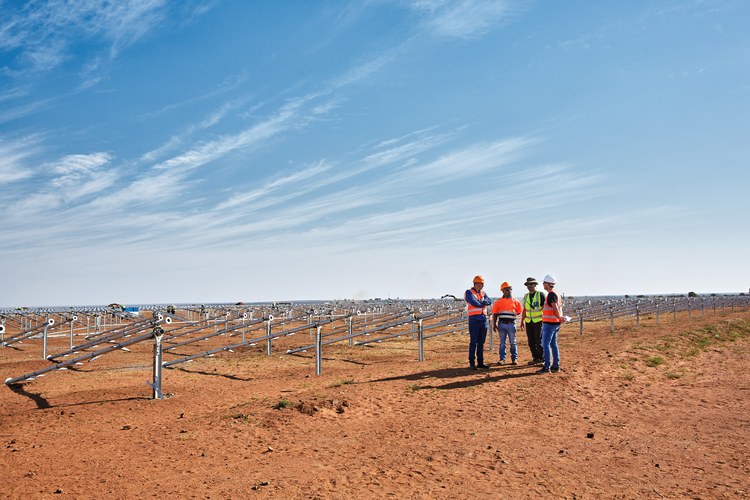 Solar energy is the fastest and easiest way to generate electricity in Africa. But so far the sun has been used far too rarely for this purpose. This is set to change as a result of technological advances, new state-of-the-art facilities and global pressure to improve the CO2 balance. High-quality cables and connection solutions from LAPP help to withstand the extreme conditions. An adventure tour towards Africa's future energy supply.
Click here for the current issue of cableworld.
Organic Photovoltaics (OPV) in the German Pavilion at Expo Milan, 2015
Special requirements are placed on the connection technology for organic photovoltaics: the photovoltaic films are extremely thin and the connection elements must bond so firmly to the film that no moisture can penetrate. Likewise, the solar cables must be able to withstand permanent exposure to sun and weather, which is why robust, weatherproof cables are indispensable. Watch the video to see the advantages of organic photovoltaics and how LAPP supports and shapes this technology.
Wind energy is the quickest growing market globally amongst renewable energies. New wind farms are being developed on every continent. They will increasingly replace energy provision from fossil fuels and thus provide a crucial environmental contribution.
Requirements for cabling solutions in wind applications:
Due to very various climatic conditions in locations such as Asia or Europa and specific technical requirements, the demands on wires, cable glands, cables and connectors regarding temperature resistance, vibration resistance and torsional stability are extremely high. Many of the installed parts have to demonstrate their reliable functionality in a temperature range of -40 to +90°C over a number of years.
How LAPP can meet these requirements:
LAPP can fall back on its extensive experience over 50 years of development and manufacturing, and based on this has developed various innovations and a high level of production quality and reliability.
Quality is constantly being ensured in our own highly-modern test centres and internationally unique test bench, in which cables up to 12 m long can be tested under realistic conditions, such as those found in a wind power plant loop. The composition of the Group with its own in-house production in the main markets gives our international customers the security of being able to access a large assortment of standard products with the corresponding standards all over the world.
Example products:
ETHERLINE® CAT 5e 105 plus
UNITRONIC® FD CP plus
SKINTOP® MS-M BRUSH
ÖLFLEX® CLASSIC 110
EPIC® MC Module RJ 45
Our team of experts in our regional offices or strategic partners are glad to work with you in identifying the best product for your application needs and answer any questions you might have. Contact us