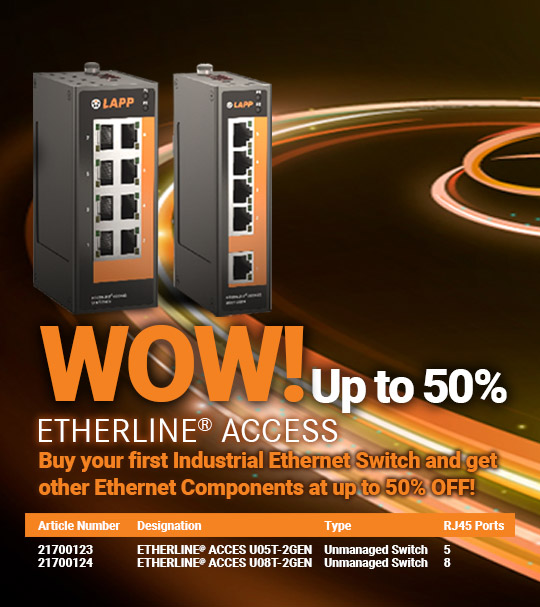 OPTION
PURCHASE
GET (SAME ORDER)
Option 1
Minimum 1
ETHERLINE® ACCESS Switch
U05T-2GEN or U08T-2GEN
5% Off your ETHERLINE®️ Cable
by Meter purchase

– OR –

50% off RJ45-Patchcords (5 pce)
Option 2
Minimum 5
ETHERLINE® ACCESS Switches
U05T-2GEN or U08T-2GEN
5% Off your ETHERLINE®️ Cable
by Meter purchase

– AND –

50% off RJ45-Patchcords (25 pce) - OR -
25% Off 8 RJ45 Connectors
Option 3
Minimum 10
ETHERLINE® ACCESS Switches
U05T-2GEN or U08T- 2GEN
5% Off your ETHERLINE®️ Cable
by Meter purchase

– AND –

50% off RJ45-Patchcords (50 pce) - OR -
25% Off 16 RJ45 Connectors
Please download the flyer to find out more about our promotion products
Promotion is valid from 1st Jan to 31st Mac 2021.
This promotion only available in Thailand, Philippines and Singapore.
For Ethernet Components, customer can choose to purchase ETHERLINE®️ Cable by Meter/ RJ45-Patchcords or both that listed in the flyer.
JJ-LAPP reserves the right, in its sole discretion: to disqualify any participant from this promotion; and to, without advance  notice, terminate or suspend this promotional program, in whole or in part, or modify it in anyway, including where the program is not capable of running as planned for any reason.